Moving is without a doubt one of the most stressful things in the world. You have to pack all of your belongings, clean, and move to your new home — all while continuing to work and maintain personal relationships in your life as you would normally. 
Because moving is such a hectic event, it can be hard to remember everything that you need to get done — especially when it comes to cleaning. At The Lakes at West Chester Village, we understand how much you have going on when you are moving to or moving from our apartments in West Chester. Because of that, we thought that we might provide you with some information in regards to what you can do to make sure your old apartment is clean and that you get your deposit back. 
Continue reading to learn more!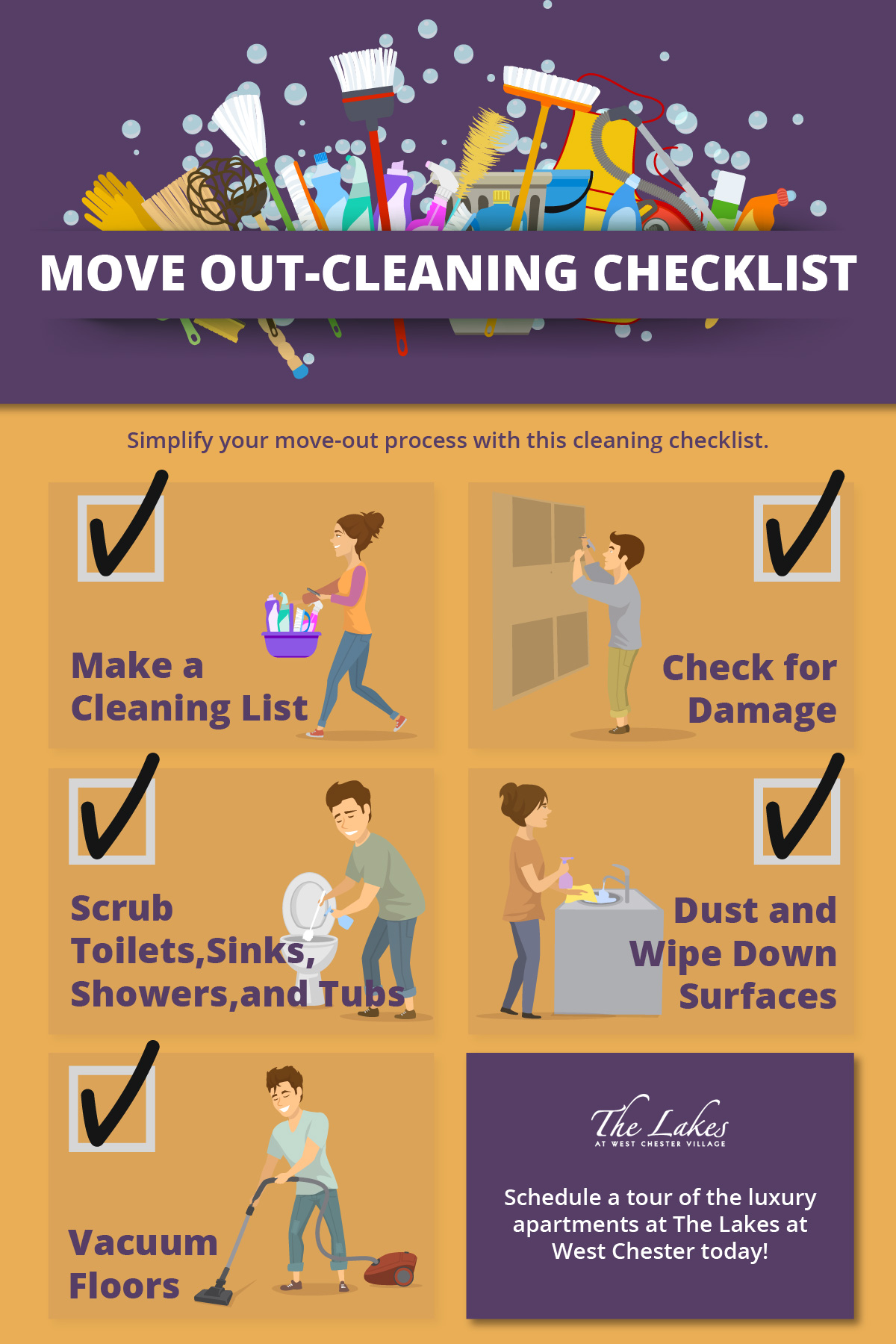 Make A Cleaning List
Whenever you have a set amount of tasks that you need to complete in a short amount of time, it is important that you make a cleaning list. Because you are so rushed to meet your deadline, you might forget some of the more important cleaning tasks that you intended on completing. 
When you make your list, break it down by room. Under "Kitchen" you can add specific action items like "clean the inside of the oven," "wipe down the cabinets," and "run the dishwasher with detergent." In doing so, you will be able to make sure that each item that needs to be cleaned will not be missed.
If you are having trouble making your cleaning list, consider contacting your apartment complex's office. Because a staff member is the one that will be inspecting your apartment on your move-out day, they can provide you with insight as to what they look for when they inspect an apartment. 
Check For Damages
One of the biggest concerns that the person inspecting your apartment will have is if any damages have been made while you lived in the apartment. Now, they aren't likely going to be looking at normal wear and tear, they will be looking for blatant damages like broken blinds, holes in the wall, scratched cabinets, and other costly damages. 
Because damages are carefully assessed, it is important to make note of the damages that you have personally made while living in the apartment and to try and fix them before you move out. If you are unable to do so, simply notify the person inspecting your apartment on move-out day. 

Establish A Deep Cleaning Strategy
Once you have created your cleaning list, it is important that you start cleaning and establish a strategy that will allow you to do so efficiently. Our personal favorite is the "clean towards the front door" strategy. 
Essentially, our "clean towards the front door" strategy means that you begin cleaning the part of your apartment farthest from the door (usually a bedroom or a bathroom) and slowly work towards the door. When you are done cleaning, you will be ready to walk out and close the door behind you — knowing that you are leaving a pristine apartment behind.
Another strategy that you can use in conjunction with our favorite is the "top-down methodology." Essentially, that means that you should start cleaning the top part of the room (fan blades, blinds, crown molding) before you clean the lower part of the room (floor and floorboards) because as you clean, dust and debris will fall. And wouldn't it be a shame to get the floor dirty right after you had gotten done cleaning it? So clean from the top-down and towards the door as you check things off of your cleaning list!
What Happens If My West Chester Apartment Isn't Clean When I Move Out?
Well, that really depends on where you are living at the time, but generally speaking, if your apartment is dirty to a certain degree after you leave, there is usually a fee that will be sent to you.  Some apartment complexes will hire a cleaning agency to clean the apartment and then send you the bill, while others will clean it themselves and then send you the bill. Either way, you will end up with an unexpected expense if you don't make an effort to clean up. 
Still Have Cleaning Questions? Get In Touch With Us Today!
If you are a resident of our apartments for rent in West Chester, Ohio and are unsure of what you need to clean before you move out, we urge you to get in touch with our office staff today. We would be happy to provide you with the information necessary to avoid getting fined after you move out. 
If you don't have time to swing by our office, simply fill out the form below with your questions and we will get back to you as soon as possible. 
---
What Questions Do You Have About Moving Out?